The 2015 Off Season, Second Year, and 2016 Off Season
Summer Olympics
Devin had paticipated with Team USA select team over the 2016 Summer Olympics where they would scrimmage against the Team. Devin got praises from others that he was one of the ones trying to show that he belongs with these NBA superstars.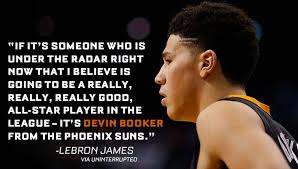 He's Just Like Kobe
Devin's coach had once said,"Watching Devin has reminded me of things Kobe would do, not just the athleticism and getting to the rim, but how Kobe was so skilled offenesively. He could just take over a quarter, only an elite player can do that."
Insane Work Ethic
Over the 2016 summer Devin has improved on his playmaking especially off the pick and roll. He got numerous praises from the game's elite players and is now not being compared as a spot-up shooter but a franchise super-star.
Kobe is His Mentor
Kobe signed a pair of against the last game of the Suns for Devin that said, "Be Lengendary". He also comared the battles he had with a young Devin to when Kobe was a rookie and facing Micheal Jordan. From then on Devin and Kobe formed a friendship that has continued since. Kobe would give Devin his skills to carry on.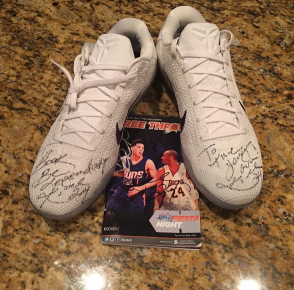 Second Year
Devin is now one of the best players in the Suns roster and already agreed to stay with the Suns for the rest of his career. In the 2nd year of Devin's career, he became a starter for all 78 games he attended. In those 78 games he averaged 22.1 points per game, 3.2 rebounds per game, 3.4 assist per game, and 0.9 steals per game. Devin had improved from his first year in NBA. On March 24, 2017 Devin shocked the world as he scored 70 points in one night, Devin had became the youngest player in NBA history to score 20 points, Devin is not legally able to drink and he dropped 70 points in one night. They did get the loss aganist the Celtics in the TD-Garden 130 to 120.
Why is This Signifigant
There are now only 6 players to ever record 70 plus points and they are Wilt Chamberlain, Kobe Bryant, David Thompson, Elgin Baylor, David Robinson, and Devin Booker, the youngest player to score 70 points. Micheal Jordan, which is the Greatest of all Time, only had a career high of 69 points in one game.
Home
Young Star
Rookie Year