Rookie Season
First Game
Devin Booker had a great first game debut to the NBA a he came off the bench for the Suns and scored 14 points in the 2nd half and went 6 for 7 shooting on the court. The coach put in Booker for the first half to get his feet wet and get a feel of the game before he put him in once the game got out of hand.
New Records
Devin said that he wants to end his career were he started and in his rookie year, Devin started 51 out of his 76 games he participated in. He also became the six player in NBA history to record a total of 1,000 points as a teenager, he also had six 30 point games which was the most since Blake Griffin in 2010-11. Since he didn't start till numerous of his teammates went down with injuries, his pratices would become a way to prove himself as he challenged all of his teammates to shooting contest where he wouldn't leave till he won.
Devin Booker didn't make the playoffs as the Suns do not have that many assets on the team to make them Playoff contenders but Devin Booker got the into the All-Rookie First Team for his efforts. Devin now knows that he is going down the right path but there have been rookies on the All-Rookie First team that are no longer good, like Luis Scola.
Stats
In his rookie year Devin averaged 27.7 minutes per game, 13.8 points per game, 2.5 rebounds per game, and 2.6 assist per game.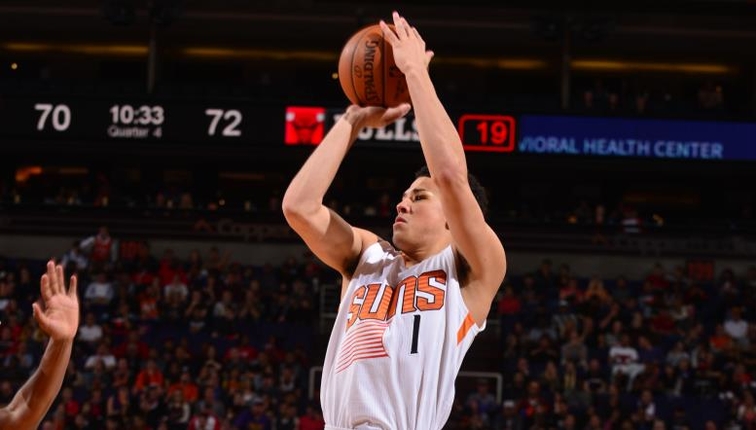 Devin has had a all around great rookie season
Home
Young Star
Second Year and Now