Devin Booker
High School Star
By his High School career, Devin Booker has averaged 27.1 points per game, 4.8 rebounds per game, and 1.6 assits per game in a high school in Moss Point, Mississipi. Devin had also won multiple awards in his High School career which include Varsity Basketball Player of the week (2011-12), Player of the Game in Nov 3, 2012, and was on the watch list of the Class of 2014.
Lights Out Shooter
In college Devin Booker had only played 1 year with the Kentucky Wildcats. There he had done well, being the 3rd leading scorring, with 10 points per game 2 rebounds per game amd 1.1 assit per game. devin got numerous awards and earned the SEC Sixth Man of the Year, SEC All-FreshmenTeam, and the All-SEC Second Team. He help lead his team to the 8th seed in the Midwest part of the NCAA tournoment where Kentucky made it to the Final Four but lost by 7 points to the Wisconsin Badgers. From that point on Devin declared to go to the pro and join in the 2015 NBA Draft and not spending another 3 years in College. He had teammaes joining the draft as well.
Young College Prospect
NBA scouts say that Devin is a solid hieght for a shooting gaurdat 6-6 in shoes. Scouts say that Devin is one of the best shooters in the draft class already. Scouts say that Devin's abilty to create seperation off the dribble makes his a dribble shooter with potential. Devin had hit 41% of his shots from beyond the arc. Booker is said to have impressive fundamentals for being the youngest player in the draft. Devin is said to never take bad shots and has a ratio of 1 turnover to 40 minutes. Devin Booker's defence is strong but his wingspan of 8-4 is small and limits his to grauding one postion. Devin is also capable of scorring off a screen or assit making Devin a well all around shot-creator.
Draft Night
As the Draft night starts already 2 of Devin's teammates were already picked with Karl-Anthony Towns going number 1 and Willie Cauley-Stein going number 6. On the 12 pick another one of Devin's teammates, Trey Lyles was picked but right after Devin Booker was drafted by the Phoenix Suns with the 13th pick of the 2015 NBA Draft. From there Devin is finally a pro after all the hard work he put in it finally paid off.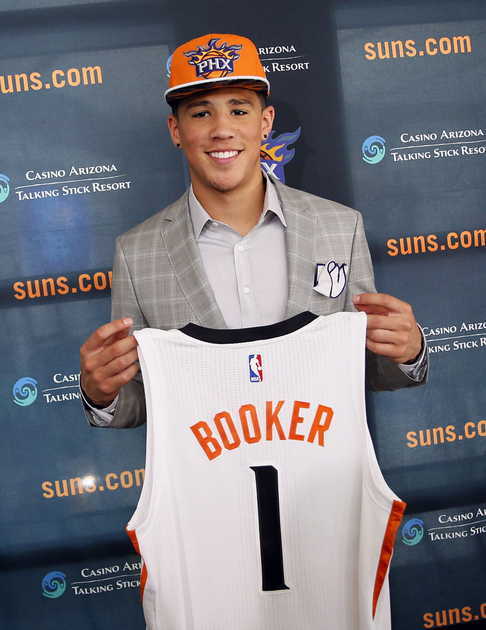 Off Season Trainning
Now that Devin was a NBA player doesn't mean thathe can relax, Devin has to put in work in pratices and show to the other NBA players that he belongs to be wearing that uniform. The off season is over and the 2015-2016 season is about to start, and Devin is going to know if his hard work and dedication pays off.
Home
Rookie Year
Second Year and Now